Contact
Ararat Gallery TAMA (Textile Art Museum Australia)
82 Vincent Street, Ararat, Victoria 3377, Australia
Mailing Address
PO Box 246, Ararat, Victoria 3377, Australia
Newsletter
We'd love to say in touch with you to share all the exciting things coming up at Ararat Gallery TAMA.
Gallery Membership
Gallery members receive first notice of upcoming events, such as artist talks, special events or creative workshops.
Volunteers
If you have some free time, want to meet new friends and deepen your engagement with art, we would love to hear from you.
Donations
Without donors we wouldn't be where we are today. Ararat Gallery TAMA's renowned collection is indebted to the people who gave money, donated works and tirelessly fundraised.
Targeted giving can support special acquisitions, the development of art prizes, publications, education programs or artwork conservation.
The Gallery is registered with the Australian Tax Office as a Deductible Gift Recipient and can provide tax deductible receipts for donations.
Cultural Gifts Program
The Australian Government's Cultural Gifts Program encourages gifts of significant cultural items to public art galleries by offering donors a tax deduction for the market value of their gifts, under Subdivision 30-A of the Income Tax Assessment Act 1997 (the Act).
Bequests
Through your Will you may wish to provide a bequest to support the collection and activities. Your solicitor or financial advisor can provide advice on how to establish a bequest in your will that will support Ararat Gallery TAMA. To ensure your bequest can best support the long-term advancement of the Gallery, it is best to discuss your thoughts with us.
Established in 1968, Ararat Gallery TAMA (Textile Art Museum Australia) holds a unique place amongst Australia's public galleries, through its longstanding commitment to textile and fibre art. A curatorial and collection focus that began in the early 1970s. The TAMA Collection is an extraordinary repository that tracks the development of textile and fibre-based practice from this time, through to today. 
This specialisation needs to be considered in relation to the craft movement at the time. In 1972 the Australian Government established the Craft Inquiry, which led to the establishment of the Craft Board at the Australia Council for the Arts. Federal and State government support followed, providing funding and validation of craft as an art form.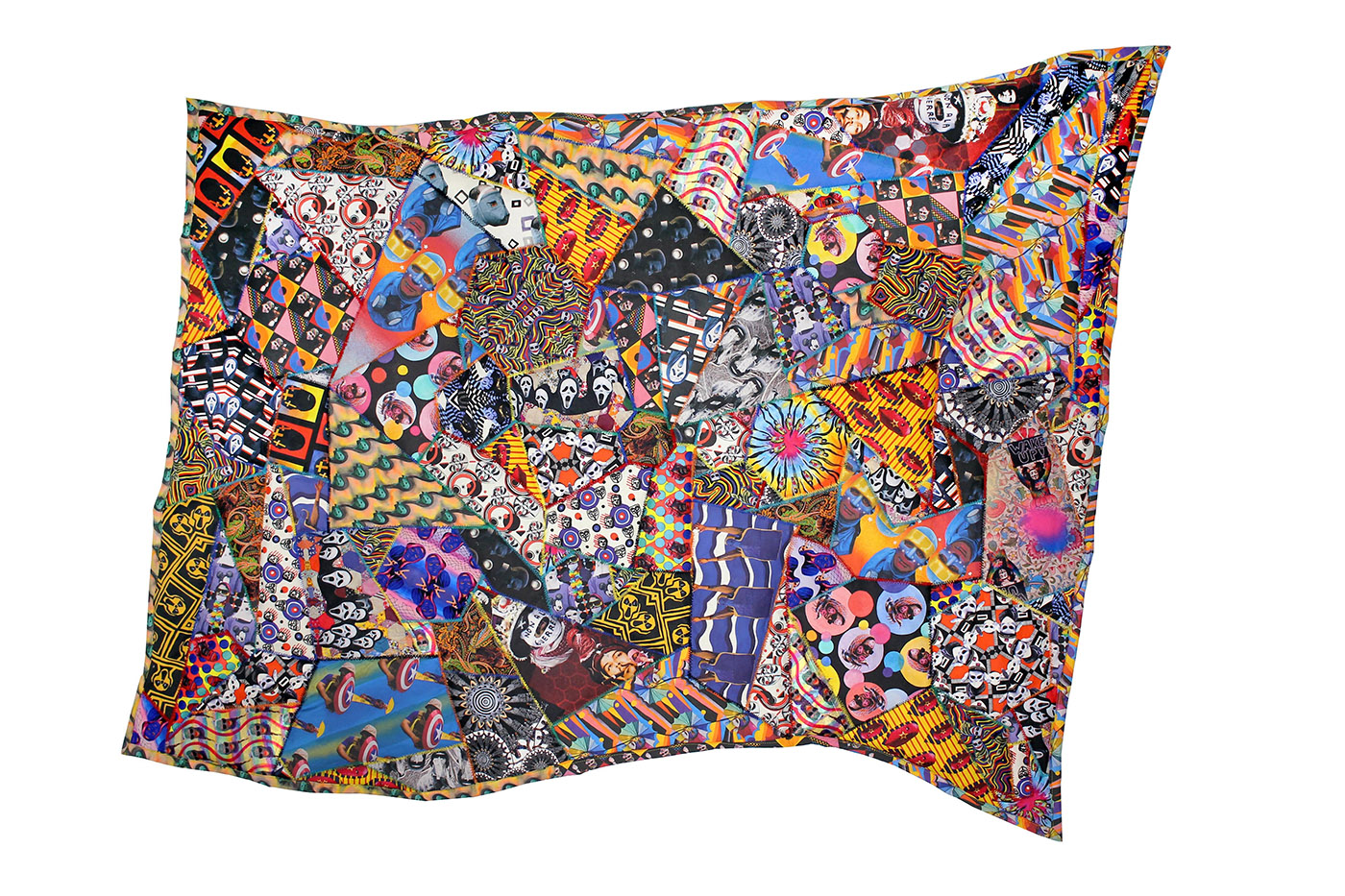 Jemima WYMAN, Domestic Rage  2017
Sewn custom printed textiles, 143 x 199cm
Purchased with the assistance of the Robert Salzer Foundation and Ararat Rural City Council annual allocation, 2017
© The artist, Ararat Gallery TAMA and Ararat Rural City Council
Formative textile artists who rose to prominence during the craft movement of the 1970s, such as John Corbett, Ewa Pachuka, Jutta Fedderson, Mona Hessing and Vivienne Pengilley, are represented in the collection. In 1976 the Gallery acquired Colombian artist Olga de Amaral's 'Coraza en dos Colores' (1973). It remains one of the Gallery's treasures and is one of the most significant examples of formative fibre art in an Australian public collection.
The dynamic growth in textile practice from the 1970s into the 1990s is reflected in a wide range of acquisitions including quilts, tapestries, baskets and embroideries, as well as experimental mixed media works that reflect the enthusiasm and optimism amongst textile artists during this period.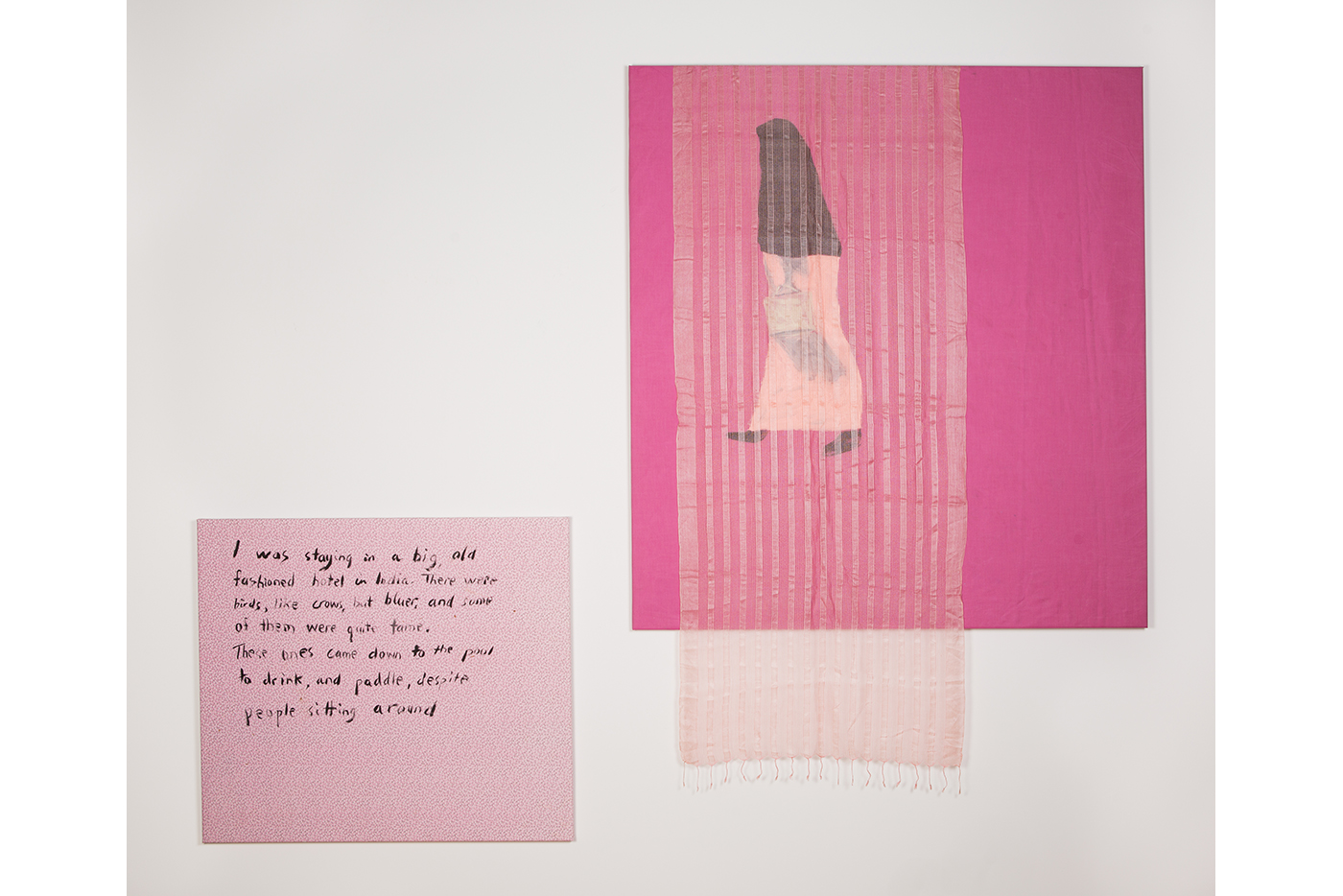 Jenny WATSON, After a fashion, with bag 2008-2009
Acrylic on rabbit skin glue primed cotton and silk pashmina, 82 x 94cm and 179 x 130cm
Purchased with the assistance of the Robert Salzer Foundation and Ararat Rural City Council annual allocation, 2012
© The artist, Anna Schwartz Gallery, Ararat Gallery TAMA, Ararat Rural City Council and MDP Photography & Video
Visual arts practice is increasingly challenging the demarcation of disciplines and the hierarchy of materials. Textile-based art has long been a broad field of endeavour transcending traditional craft media, but it is increasingly intersecting with painting, sculpture, installation, performance and multimedia in unexpected ways. The Gallery's collection contains a diverse representation of such boundary pushing, textile-based works by artists including Kate Just, Kathy Temin, Jenny Watson, Sera Waters, Jemima Wyman and Paul Yore. The Gallery also holds fibre-based art by First Nations artists from South Eastern Australia such as Lorraine Connelly-Northey, Yvonne Koolmatrie, Georgia MacGuire and Letty Nicholls.
Other collections include the Lady Barbara Grimwade Costume Collection, the Art of the Japanese Package and the Frances Burke Collection.
In 2019 Ararat Gallery TAMA was one of three galleries to pilot Creative Victoria's Regional Digitisation Roadshow. As a result, we are continuing to upload images and details of artworks to the Victorian Collections website – click here to view our progress.
Ararat Gallery was established in 1968 in the Old Municipal Offices of the Ararat Town Hall. Pamela Gullifer AM was appointed as the Gallery's first full time director in 1973, and she honed in on Australia's growing craft movement, which provided rich opportunities for a new gallery seeking to establish a collection on a small budget. It was the region's historical association with fine merino wool production which ultimately secured the Gallery's fibre art specialisation. In 1978 the building's exterior was restored, and the interior was modified to include the gallery, performing arts centre and a new arts and crafts workshop. 
The 1980s saw the Gallery expand its textile art focus, curating four biennial exhibitions which toured to other public galleries. This was a period of prolific collecting and many of Australia's leading textile and fibre artists from this decade are represented in the TAMA Collection. It was a time of optimism in the craft community with increased professionalism, experimentation and boundless creativity.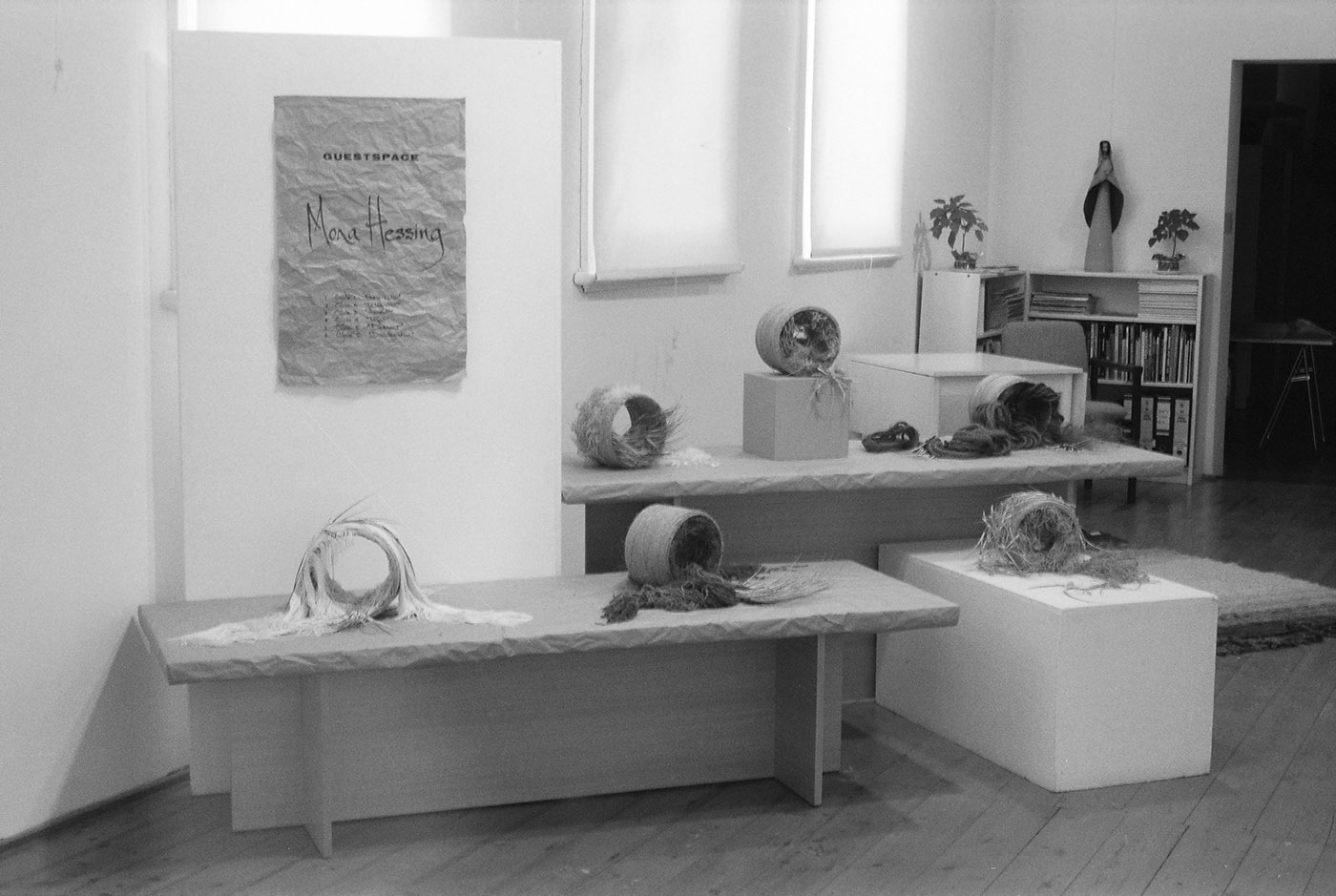 Mona Hessing exhibition, 1984
© The artist's estate, Ararat Gallery TAMA and Ararat Rural City Council
By comparison, the 1990s was a time when contemporary artists began experimenting more broadly with materials and identifying less with movements, mediums and definitions. Career pathways in craft become less fruitful, and notions of a textile identity within the craft movement lost currency. The artworks collected during this period reflect the evolving status of craft and the critical demands of artists working with textiles and fibre materials and techniques to strengthen the conceptual underpinning of their work.
The collection has continued to grow with acquisitions that reflect the expanding field of textile practice in Australian visual culture. Today the collection is a significant repository of textile art that is unsurpassed by any other Australian collecting institution.
The Gallery has consolidated its textile art specialisation through a range of programming initiatives and a reinvigoration of the collection. Recent acquisitions reveal the rich diversity of current fibre-focussed contemporary practice and foreshadow opportunities for the collection's future growth and development.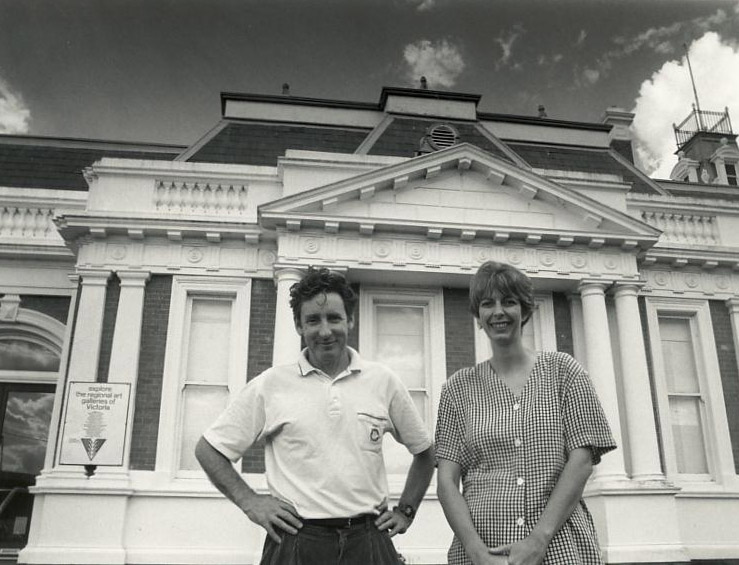 Graeme Bird, Ararat Gallery Director 1990-1998 and Elizabeth Lindsay, Curatorial Assistant 1989-2005
In August 2018 Ararat Gallery celebrated its 50th year. This milestone coincided with the completion of the ambitious Ararat Arts Precinct Redevelopment Project. The Gallery has doubled its exhibition and collection spaces with two new collection areas and a purpose-built gallery devoted to promoting excellence and innovation in textile art practice. For the first time, the Gallery's extraordinary textile art collection will have a dedicated exhibition space with a changing display that tracks the story of textile art practice in Australia.
To mark the opening of the refurbished and expanded Ararat Gallery, and in recognition of its significant textile collection and contemporary programming, a new brand was launched and the Gallery was renamed Ararat Gallery TAMA (Textile Art Museum Australia).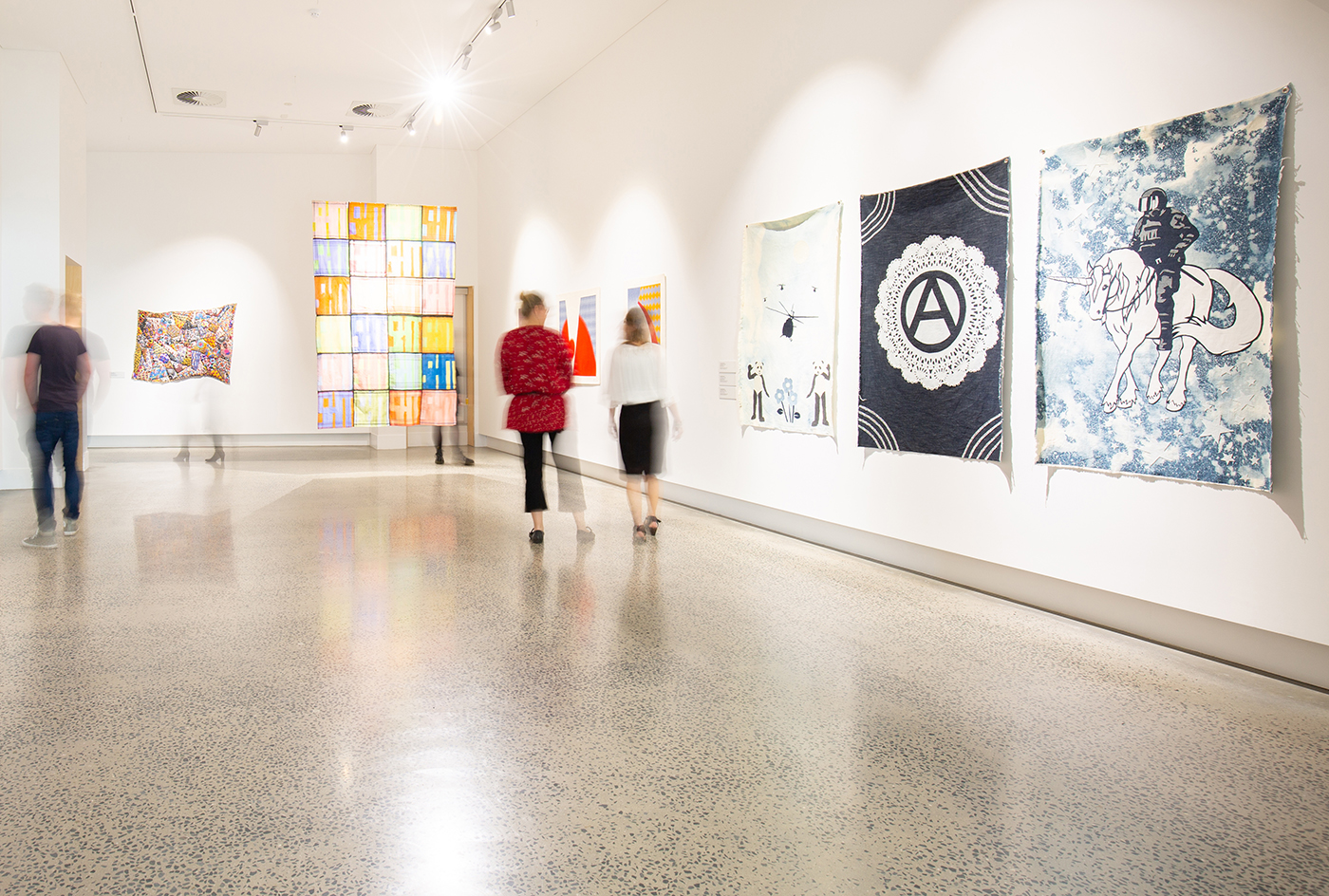 Artwork L-R
Jemima Wyman, Domestic Rage – 2017; Jordan Marani, Eiderdown II – 2016; Tim Gresham, Triptych from Red – 2002; Tony Garifalakis, NWO Cameltoe – 2012, Anarchodandyism – 2013 and Mounted Stardust Unit – 2013
© The artists, Ararat Gallery TAMA, Ararat Rural City Council and MDP Photography & Video.
Ararat Gallery TAMA receives government funding from Creative Victoria and we are grateful for their dedicated support.
Government Partners - Program
Philanthropic Partners - Ararat Arts Precinct Redevelopment
Peggy and Leslie Cranbourne Foundation
Rowly and Judy Paterson
Without the support of our partners we would not be able to sustain our program and operation. To find out more about partnership opportunities and benefits, please get in touch.